COVID-19 Impact Ecommerce How Merchants Cope in 2021
The retail industry has felt the effects of the Coronavirus pandemic hard. Some business sectors have been affected badly by quarantines, while digital commerce has seen some growth in sales and new opportunities.
These are 7 main effects of the COVID-19 Impact Ecommerce: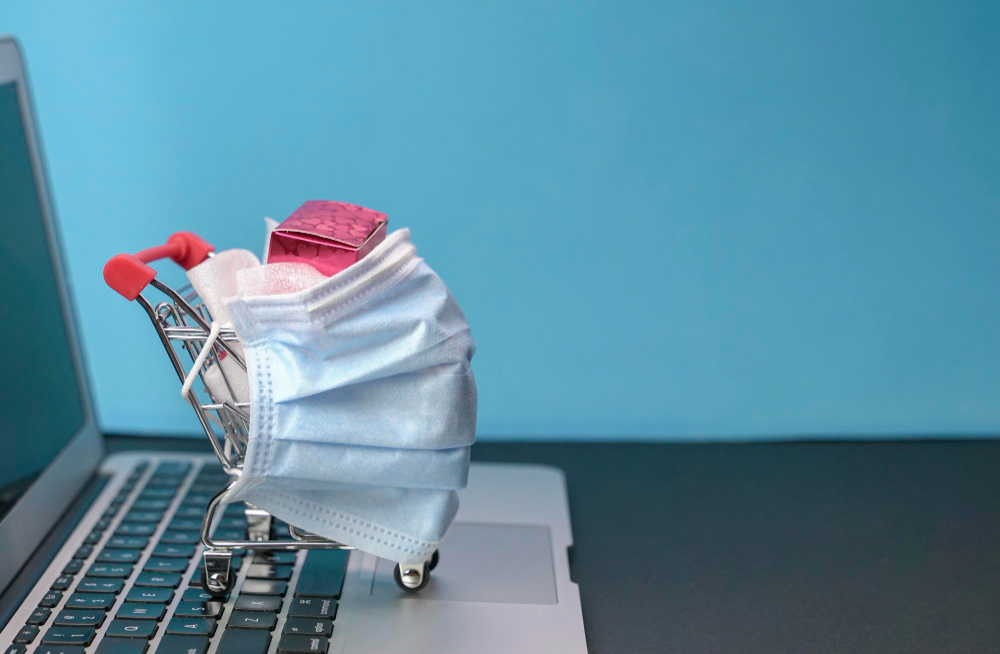 What Impact Has Coronavirus Had on Ecommerce?
People Are Buying More Online
First of all, and most predictably, quarantine and social distancing measures have meant people are shopping online more, instead of in brick-and-mortar stores. A report by ContactPigeon which surveyed over 30 million eCommerce transactions in Europe in 2020 found that online sales increased by 61%.
In the US, too, consumers spent $211.5 billion in the second quarter of 2020 alone, a bump of 31.8% compared to the first quarter, according to an investment bank and financial services expert JPMorgan.
In-store Shopping Down, AOV Up
Even though the number of people shopping in physical stores was down due to COVID health fears, Average order values (AOV) for each shopping excursion people made in person actually went up. As McKinsey reported, Chinese grocery shopping trips were down by 30% during the pandemic but AOV rose by 69%. This is because people were reluctant to leave the house so often, and when they did go out they wanted to make the trip worth their while by buying as much as possible.
Click & Collect Has Increased
As we reported back in September, at the start of the peak shopping season, customers are increasingly choosing to Buy Online and Pick up In Store (BOPIS) because they don't have to spend so long in stores and it's safer. In fact, these Click and Collect fulfilment options increased by 28% year-on-year in February, compared with just 18% in January. This shows that the Coronavirus pandemic is making consumers more willing to try new Omnichannel ways of shopping, using multiple shopping channels.
Less Disposable Capital, Fewer Apparel Goods
Layoffs, furloughs and other uncertain working conditions during the pandemic mean that people don't have as much disposable income to spend on luxury goods anymore. The hardest hit products have been things that people wouldn't like to buy without trying them on first, such as jewellery, clothes and shoes, as shown by ShipBob's assessment of the first quarter of 2020.
Less Disposable Capital, More FMCG & Other Necessities
Another result of people not having so much spare cash and spending more time at home is that they have mainly been buying fast-moving consumer goods (FMCG) like food and beverages, plus cleaning products and baby things. This has been good news for online grocery retailers, but the increased demand has meant that they are having some difficulty trying to process so many orders.
Supply Chains See More Demand, Slower Service
Supply chains have been severely affected by COVID-19 on two fronts. Firstly, there are logistics problems caused by restrictions on international trade and consumer goods going through borders. Secondly, the boom in eCommerce and product delivery initially made fulfilment in warehouses slower, a fact that was compounded by the implementation of necessary protective measures like regular hand washing and safe distancing, plus some warehouse shutdowns. Now, though, the warehouse industry seems to have gotten a handle on these new challenges.
Some Retailers Close, Survivors Embrace Tech
With the forced closure of physical stores, many small businesses that didn't have eCommerce processes adequately set up have unfortunately gone out of business. In some places, this has compounded the strength of large retailers who were better able to weather the storm, but it has also sped up the pace of innovation for smaller merchants.
Small- and medium-sized enterprises (SMEs) were required to accept digital transformation as a way to stay afloat, and some are coming out of 2020 better prepared to deal with the future of retail, which many have long-predicted necessitated the adoption of digital commerce technology anyway. The pandemic has simply fast-tracked this process, bringing eCommerce forward 10 years in a matter of just 90 days.
How Merchants Can Prepare for 2021
Adopt Mobile-first & Responsive Design
Digital transformation is the best way for retailers to cope with the challenges presented by the COVID-19 pandemic. Since people are shopping online more, this also means an increase in the use of mobile phones for eCommerce. Statista estimates that 53.9% of all retail eCommerce will be on mobile in 2021. Ecommerce merchants nowadays must not try to fit their existing desktop websites into small phone screens, but rather consider mobile use when designing their websites in the first place.
Possibly the most powerful new technology supporting mobile-first website design is to use Progressive Web Apps (PWA). These help to make the UX/UI of a website look and feel like an app, delivering the kind of smooth customer experience that shoppers have come to expect these days.
Get Online Now
Of course, that's assuming you have an eCommerce presence already. Maybe you don't. In which case, what are you waiting for? 87% of all shopping journeys start with consumers searching online, so you need to have your product line online.
It's not enough to just have a website, though. You need to allow people to order and pay through your website. To do that, it's best to build the website itself on an eCommerce platform made especially for the purpose. Some of the most popular include BigCommerce, Sitecore and Magento.
To really speed up the process and start seeing benefits within just a couple of months, it's advisable to use a quick start Minimum Viable Product (MVP), either to launch the new e-store or any extra features that an already existing store may need.
Go All-in on Omnichannel
To deal with COVID in 2021, retailers will need more than just a physical store or an eCommerce store. The new trend is for Omnichannel, joining up all marketing and sales channels for a seamless customer experience whenever and wherever the customer interacts with the brand.
In practice, implementing Omnichannel means giving shoppers the chance to buy online and pick up in person, curbside delivery, socially distanced takeaway measures, plus many other ways of joining up all touchpoints along the customer journey.
You also need a lot of data about each individual customer, and to track their shopping behaviours regardless of how they use your services. The best way to aggregate data about each single customer is by using a specialist Customer Data Platform, which can even suggest appropriate marketing actions to take based on that individual's past shopping activity.
Make It All About Customer Experience (CX)
Customers these days have come to expect personalised attention and a great, pleasing experience any time they shop. A satisfying shopping experience is in many ways more important for the shopper than the fact of coming away with a new product.
As pointed out on the BigCommerce blog, the retailers who will benefit the most post-COVID will be those who can optimise the customer experience with honest, detailed product information and relevant, personalised marketing content, especially on social media. The more your customers enjoy shopping with your brand, the more repeat custom you will see.
Enhance Inventory Management
The changes in the warehouse industry in response to COVID and the difficulties in fulfilment processes require an advanced conception of inventory management by eCommerce merchants. As outlined in GritGlobal's Holiday Guide, this includes talking to supply chain partners with plenty of time, not ordering too much or too little stock, pricing products intelligently and knowing what to do if you sell out of a product, among other things.
Other tactics can include the adoption of the drop shipping method of online retail to cut down on warehouse costs, or automating warehouse processes with a Warehouse Management System.
Finally, retailers have witnessed a trend towards fewer free shipping options than before because customers are now so enamoured with eCommerce that they're willing to pay for delivery. By charging for shipping, merchants can recoup some of the losses generated by ineffectual fulfilment processes in the early days of COVID, in the first quarter of 2020.
Give Shoppers New Ways to Pay
Another important way to improve CX and implement Omnichannel retail strategies that's worth mentioning in its own section is offering more payment options. Customers are increasingly turning towards electronic payment methods as an alternative to cash and cards.
While it's still important to let customers pay Cash on Delivery or by debit/credit card where applicable, you should also incorporate Buy now, pay later and fintech solutions like digital wallets and QR code into both your eCommerce store and brick-and-mortar stores.
Reap the Benefits of Managed IT Services
Last of all, with all this new technology to empower online sales, retailers need to make sure it's all working properly and online 100% of the time. With an eCommerce website able to sell products anywhere in the world at any time of day or night, sellers are missing out on sales opportunities if their site or any one of its features or enhancements is offline for any period of time.
Many eCommerce retailers these days choose to complement their commerce suite with 24/7 managed services to check for bugs, outdated versions or anything else that could go wrong with the digital operations. Managed IT service providers are able to monitor site downtime and fix problems without having to wait around until a competent IT repair person is available.
These provisions can also come with DevOps-as-a-Service, which allows businesses to streamline development and operations while improving professionalism with stringent quality control. 
Keep Calm, Kill COVID and Carry on with Commerce
It's a mere truism to point out that eCommerce has changed enormously because of the Coronavirus pandemic, but it's important to stay aware and up-to-date on the facts if vendors and other players in the commerce industry are going to survive this crisis.
The best way for companies to fight against difficulties caused by COVID-19 in 2021 is by applying and investing in the latest technologies. But this will only help if this tech is used in the most efficient way, helping to support business processes and help the people involved, both customers and employees. Only in this way can businesses grow in spite of the Coronavirus.
Subscribe to the SmartOSC newsletter for more eCommerce and tech insights, and feel free to contact us to talk about our digital transformation, fintech, Customer Data Platform or other managed services.
Related blog
Learn something new today