Double sale day mega sale day decode
If you live in Asia or target Asian customers, you must have heard about the famous double-day sales such as 9/9, 10/10, etc. These special double-day campaigns are generally called Mega Sale Days.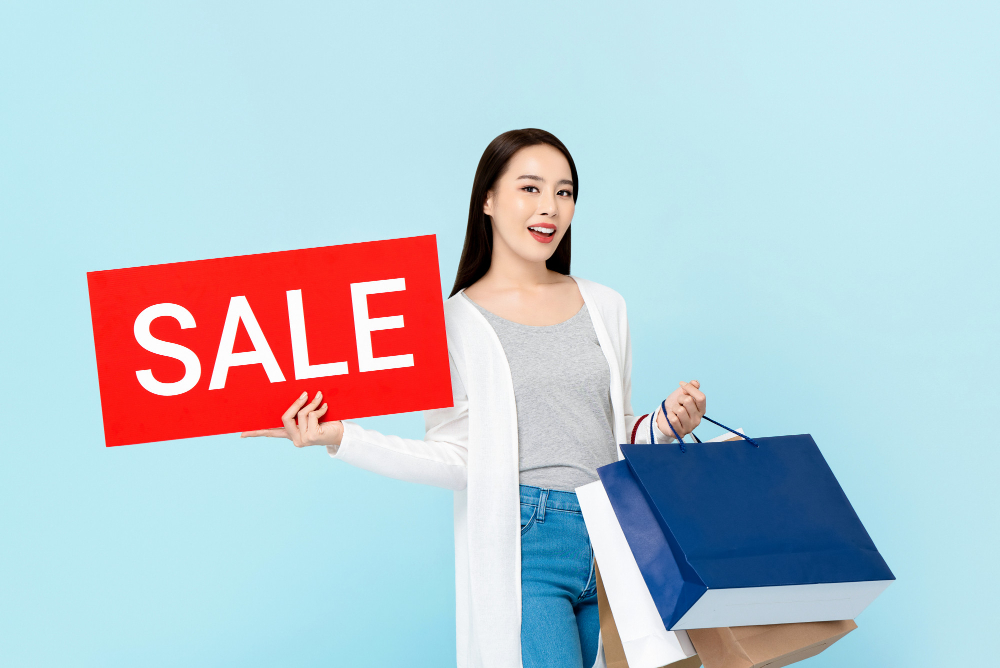 These days are tremendous and meaningful for the whole retail industry in Asia because now, every month, customers know that there will be one fixed day when they can enjoy a lot of deals. These predicted sale days have directly influenced them to make more purchases, especially impulsive ones. 
The Double Sale Days are a great chance for retailers in Asia to get more people using eCommerce and convert hesitant customers with free delivery policies and discount coupons.
What's the origin of these days and how will it impact your business in the long run, when you are an Asian merchant? A Western merchant? In terms of eCommerce, Asia is the thought leader in keeping in tune with the customers of tomorrow. In fact, these Mega Sale Days are making incremental impacts on eCommerce and retail in the West, even competing with popular traditional Western sales days such as Black Friday and Cyber Monday.
Today, we will dive into the growth of these Mega Sale Days, what makes it popular as well as what it means for your business growth, especially for this upcoming holiday season after the wake of a pandemic.
The growth of Mega Sale days
These Mega Sale Days take their roots from the legendary Singles Days (11/11) in China when single people shop to cheer themselves up in compensation for having no romantic partners. Thanks to Alibaba's sharp implementation, 11/11 has become the largest event in the three biggest Chinese social-first, mobile-centric marketplaces including Tmall, Taobao and Alibaba since 2009.
To put the profound impact of Mega Sale Days into context, remember that the very first official 11/11 campaign yielded 231.5 billion yuan (US$30.8 billion) in online sales over a 24-hour period in 2018.  Meanwhile, Adobe estimates that Black Friday brought in US$6.2 billion and Cyber Monday $7.9 billion in 2017. See your opportunities yet?
Based on these tremendous results, Alibaba wanted 12/12 the next 11/11 to convert those who are freaking out over Christmas buying and or wanting to hunt for deals just before New Year Eve. In the beginning, most Chinese marketplaces saw 12/12 as an opportunity for small and medium-sized businesses to get the spotlight that was taken by large brands on the previous 11/11. Now, we see a large number of large shopping apps from East to West namely Lazada, Zalora, Asos are active contributors to the success of 12/12 Double 12 Day. 
Now, big brands are also joining Double Sales Day because of their popularity.
In 2016, Shoppe paved the way for another large annual sale campaign taking place on 9/9, covering the whole region of Asia Pacific including Indonesia, Malaysia, Philippines, Thailand and Vietnam. This event brought about tremendous profit to Southeast Asia and Taiwan merchants with over 6 million orders placed on 9/9.2018 – triple the number of orders on a normal day on Shopee. More than 15 million items were sold within 24 hours.
The great success of 9/9, 11/11 and 12/12 has opened the way for Shoppee to expand its Double Day sale strategy. Now, every Double day of the month is an event most eCommerce shoppers await. It has created wonderful chances for brands to engage with their customers and prospects, as well as forming their spending habits using eCommerce. 
After two years of the pandemic, the Mega Sale Days are no longer an Asian-only event. Huge Western retailers such as Zalora, Amazon, Sephora,… are now actively joining the game to compete for customers' attention and money with APAC's main players like Shopee, Lazada, Zalora, Tiki.
The impact of Mega Sale Days
The success in the retailing industry has created a movement in other industries as well. For instance, many hospitality industry's main players like Booking.com or Hotels.com have a 9% refund on 9/9 or 8% deal sale off on 8/8. Banks, financial institutions and many digital wallets also joined the movements by partnering with eCommerce platforms to serve a flock of eagerly-spending customers.
In 2009, when Alibaba started its first-ever 11/11 campaign, only 27 brands were joining them. According to Forbes, that number grew to more than 60,000 online shops in 2017. Under the severe impact of Covid-19, luxury brands are forced to join the game to survive. too. In 2020, around 200 luxury brands ran their promotion campaign on 11/11, which doubled the number in 2019. 
This is something remarkable because normally, luxurious segment players were reluctant to participate, believing joining sales season would damage their mighty reputation. This year, with overall sales down due to the pandemic, and with Chinese shoppers comprising a large percentage of global luxury buyers, high-end brands overcame their concerns.
The impact of Double Sales Day is expected to be more widespread than ever thanks to the fast growth of marketplaces such as Shopee, Lazada or Tokopedia. In the Asia Pacific region, the revenue for retail on 11/11 in Singapore has increased to 477% and in Malaysia is 132% in comparison to the number in 2019.
How the Double-Day Mega Sale benefit business
Brands can gain new customers 
Mega Day Sales are making a trend to join their peers in the online shopping rush as there are several discount programs, gifts and more.
Thanks to the popularity of marketplaces as well as the simplicity in their buying and checkout process, these Mega Day Sales are opening ladders of opportunities for brands of all sizes to increase revenue. By offering much lower prices, free delivery or free gifts, eCommerce marketplaces are yielding more profit from existing customers and attracting new customers who haven't bought anything online – all at the same time.
This effect works because many people save their carts to check out on Mega Sale to enjoy attractive promotion campaigns. These people, thus, create a trend among their social circle about online buying, directly or indirectly making other "wandering" customers curious and become easier to be persuaded to test the water for the first time.
In fact, around 86% of consumers in Southeast Asia say they've purchased products online during the Mega Sale period. Among them, 43% said this is the first time they have ever purchased goods on the Internet. The number is highest in Asia Pacific countries, leading by Thailand and Vietnam with 64% and 53%, respectively.
Many shoppers choose newly discovered brands 
When all brands go on sale, customers tendbefore24 hours to pick around to get the best deals. They tend to buy from new brands based on their competitive price, product review rates or attractive promotions. 
As a result, many buyers are purchasing from brands and even categories they haven't tried before. This openness to new brands has been observed in all categories but is much more pronounced in men's and women's fashion (70% each), home living and household groceries (69%), and toys and baby items (69%), according to research by Facebook. 
Brands can form regular shopping habits
The regular sale programs actually "train" customers to have a regular shopping habit by making them visit online stores more often – the more customers spend time with you, the more likely they are to be converted to a sale.
Brands can now track, analyze, and predict customer behavior better
The surge in traffic equals something much more important than business revenue or profit: the increase in meaningful data. 
Based on search inquiry and any other behaviors that can be tracked while customers are browsing the eCommerce sites, brands can start to really learn about each of their customers, from their liking, their browsing interests, to what's trending right now.
In this way, brands can learn about their customers and get noticed about market trends quickly. The abundance of data enables them to make data-driven decisions. With the help of a CDP, they can implement personalization experiences to cater proper and meaningful service to each customer, or arrange their fixed inventory plan for better trend adaptation. Marketing campaigns, messages, or ideas should be built upon this information so that it serves the customers the way they want, in the tone they prefer, and in their best interest. 
What's next, with all the tremendous impacts from Mega sale day?
Special-date sales are set to get bigger and better across eCommerce Asia platforms. With most events a lucrative occasion for brands owners to get closer to their existing customers and approach new ones, we need to be able to translate those trends and benefits into actionable insights. 
So, what does eCommerce predict about these Mega Sale Days?
Social media is key to driving discovery commerce 
Most customers joining the Mega Sale Days are those familiar with mobile commerce and having high digital literacy. On Singles Day 11/11, nearly 90% of the sales came from mobile shoppers. This presents marketers with a never-seen-before opportunity to implement mobile-first strategies that are complemented by smart customer journeys across other channels. These are aimed at finding customers when they are most active and giving them irresistible deals and incentives to gently nudge them to shop.
Moreover, during Mega Sale Days, social media is primarily responsible for driving awareness and discovery among consumers, be it for first-time online shoppers or experienced ones. Among Mega Sale shoppers, 63% used social media to discover new products. And among first-time buyers, the number of people who did so was 66%.
The more sales events, the lower the customer trust in brands
A successful Mega Sale campaign is about what your brand has done 30 days before. Relying only on discounting during the sale days will not be sustainable. Even prior to the sale event, we need to use data and media to launch different initiatives that can elevate the customer experience. 
Thus, brand affinity is key. There is no rest day because connecting with customers is a daily grind. Every day we think about what the brand means to new and existing users, how we can connect with them. It's important to us to maintain what our brand means to customers pre- and post-Mega Sale Days.
Mega Sale Days are not just promotional events—they're platforms for brand building
Discounts aid brands in acquiring new customers. In every category, at least 70% of consumers cite discounts as a reason they would purchase a product during a future sales campaign. But we all know that price competing only attracts bargain hunters, who have the shortest lifetime value and lowest profits. Long story short, discounts don't necessarily promote loyalty.
Mega Sale Days are no longer just about launching promotions or trial periods to create a short-term sales peak. It has evolved into an opportunity to drive brand awareness and loyalty. This moment is a good time to experiment with different marketing tactics to aim for more market share either in the short or long term, depending on how brands want to balance ongoing activity with one-off events.
Wrap up
The digital landscape, our customers, and their needs have never stopped evolving, especially under the intense pressure of Covid. These said Mega Sale Days are only going to be more popular to both customers and a must-attend event for brands if they want to keep the connection and retain customers. Thus, understanding its importance and how it impacts your future is one of the most critical things for merchants to future-proof their business.
With that being said, don't underestimate the importance of eCommerce and the trends arising in Southeast Asia in at least the next ten years. For more eCommerce insights, subscribe to our Blog or check out our profile of successful customers. 
Related blog
Learn something new today