How to Sell on Social Media
Social media like Facebook and Instagram now let people shop directly on the app, and eCommerce stores need to know how to leverage social commerce to sell more online. Here we look at everything from product discovery to B2C live chat to in-app checkout on all the main social media platforms.
Social shopping strategies are set to be the deciding factor for brands in 2021 and for the future of eCommerce, with social media usage up across the board due to COVID-19. An eMarketer survey showed that referrals from social media to eCommerce websites have increased 110% in 2 years, more than all other referral channels. So how can brands harness the power of social commerce?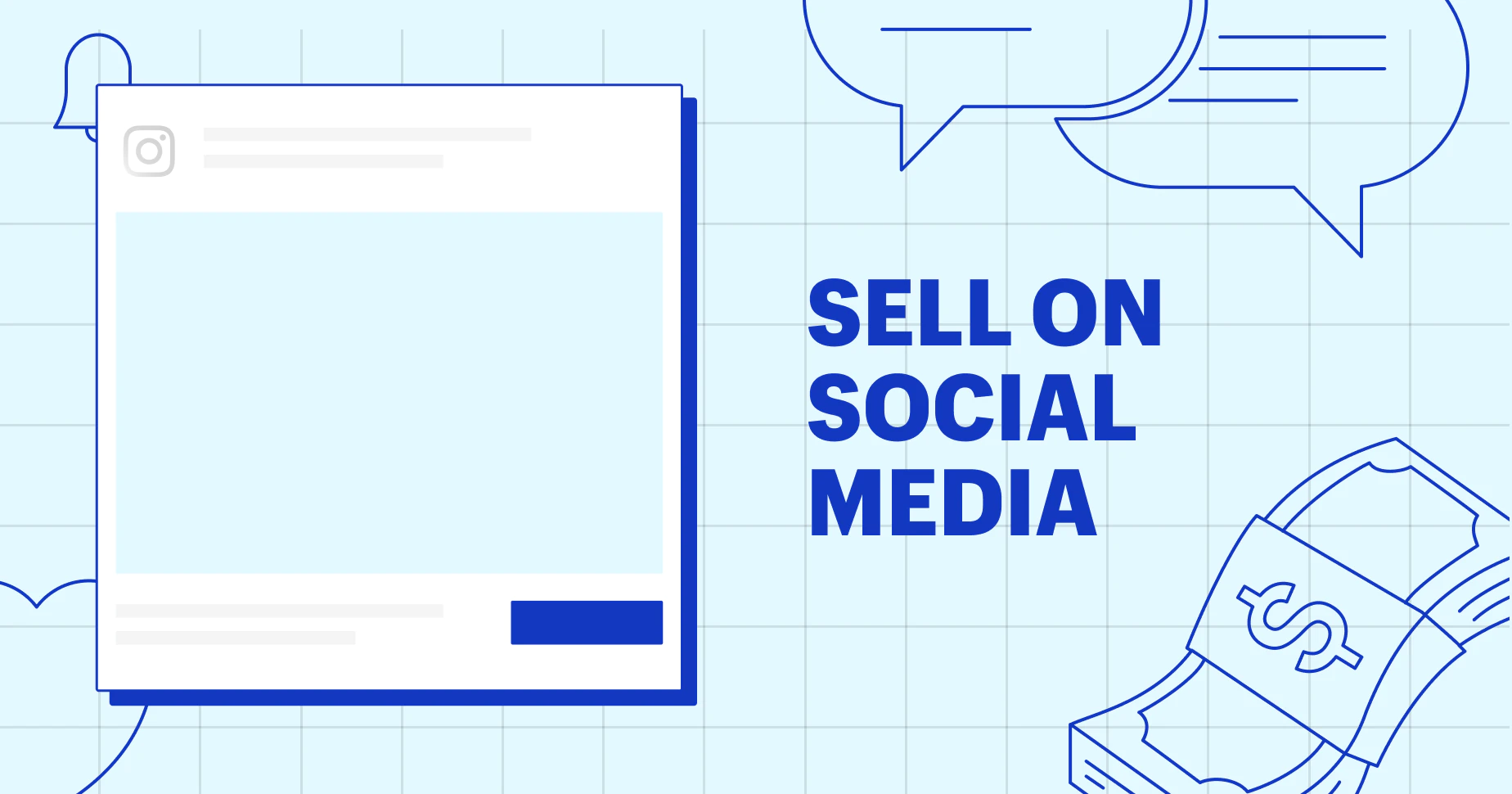 Facebook
Facebook is surging ahead with social commerce, and has several solutions for eCommerce stores that are looking to get more eCommerce conversions. Brands can set up their own store directly on the app using Facebook for Business. The Facebook Shops store design is fully customisable and can host up to 30 products in a collection, either created from scratch or imported from your existing eCommerce site. Retailers can advertise these products directly on Facebook users' live feeds and talk to customers via FB Messenger, Instagram Direct and before long on WhatsApp, too.
Facebook is able to do this thanks to an integration with Magento eCommerce platform. This works both ways, with the introduction of built-in Facebook 'like' buttons to Magento eCommerce stores and the possibility to checkout on Magento from Facebook.
Instagram
Part of the Facebook group, Instagram also offers a checkout feature to embed transactions in the app itself. Shoppers can find new and suggested products on their Instagram feed and on Instagram Stories, which is made easier thanks to 'Shopping' tags.
Once they've found a product they like, Instagram users can then navigate to the brand's profile to chat to the retailer for more information and even buy without ever having to leave the app. After purchase, Instagram provides the option to save consumers' payment details, making repeat purchases easier and faster. This helps to cement a virtuous cycle, and make sure social commerce continues into 2021 as a common way for people to shop in the new normal.
WhatsApp
WhatsApp also lends itself perfectly to allowing customers to communicate directly with sellers to learn more about the products they're interested in, shipping policies, and more. What's more, it can be enabled directly on an eCommerce store.
WhatsApp is also embracing the trend for in-app social shopping, with its product catalogs for WhatsApp Business. This is a special modality that allows online sellers to share their product range with shoppers via chat, but payment via WhatsApp is still not available yet.
Snapchat
The great advance in eCommerce in 2021 is predicted to be the use of Augmented Reality (AR) in the buyer journey. Snapchat has been using and perfecting AR for years in the form of its filters and lenses that enhance users' selfies with things like puppy dog ears and big eyes. Now that same technology is being applied to shopping.
Imagine being able to see how a pair of shoes or some sunglasses would look on you before you buy, or whether a piece of furniture would suit your home décor, just by using your phone camera. They also utilise AR in their Snapchat Scan feature to provide offers and discounts to users who scan special QR codes on posters and in the real world. AR is gaining such traction that Facebook is also testing options for AR shopping on its app.
TikTok
TikTok is a relatively young social network and as such hasn't had time to develop the same level of commercialisation as the bigger, more established players, but it is still an excellent platform for advertising. TikTok's users are predominantly millennials and those in the 16-24 age bracket, so it's the perfect place to market if your brand sells products that are targeted to that age group.
The style is generally low-budget, low-fi, and looks user-generated, so bear this in mind when creating content. Apart from linking from your TikTok content to your eCommerce store, you can also make money on TikTok with Coins, which the app's community will reward you with if they're feeling generous and really like the content you're putting out and which can be exchanged for real money. This should really incentivise you to put out high-value work.
TikTok has also recently announced a partnership with Shopify. It consists of a beta feature in the US which will allow merchants who have an eCommerce store built on Shopify to control their TikTok For Business Ads Manager and to create specialised content for TikTok straight from their Shopify dashboard. This is possible by downloading the TikTok app from the Shopify App Store. The app even integrates the "TikTok Pixel" so merchants can track conversions to analyse the performance of their TikTok campaigns.
WeChat
In China, WeChat is lightyears ahead of the pack when it comes to implementing eCommerce on social media, and most "innovations" seen on other social media around the world originate there. The WeChat app has its own digital payment method, WeChat Wallet, which 776.08 million people use instead of credit cards or bank transfers to buy everything from cinema tickets to coffee.
At the same time, it's possible to advertise via WeChat articles on your official account page, via posts, and by sponsored banner ads. Finally, WeChat has its own eCommerce platform, WeChat Store, where merchants can build an online store inside the WeChat app itself.
YouTube
YouTube is looking to change its image as one of the most underused social media platforms for marketing by partnering with Google to basically turn it into the world's biggest product catalogue. It looks like this feature is due to be available sometime in 2021. According to a Bloomberg news report, when it is ready it will allow viewers to browse and buy the items they see in YouTube videos.
Amazon Posts
Up to now we've looked at established social media and chat platforms that are integrating eCommerce into their customer engagement models, but Amazon is an example of an eCommerce marketplace that is adapting to offer an experience more akin to how people use social media.
With "Amazon Posts", merchants can show images and information about their products on their own home feed and on the product details pages and category pages. Each post consists of a product photo and a caption, similar to Instagram images. Amazon Posts is still in its beta phase, and is currently only available in the US.
Pinterest
Pinterest has several ways for eCommerce merchants to make money. Pinterest is a huge image and ideas sharing community where people are used to seeing products and items. Now, with Pinterest's "Shop the Look" pins, users can click on certain elements in an image and are provided with a link for where to buy it.
Meanwhile, Pinterest's "Rich Pins" leverage a partnership with BigCommerce to bring product info directly onto the Pinterest interface, and "Buyable Pins" are integrated with Shopify to allow users to checkout without ever leaving Pinterest.
Final Thoughts on Social Commerce Strategy
Social commerce is one of the fastest growing trends in eCommerce, and it's absolutely vital for any brand that wants to remain competitive. Bear in mind that the vast majority of social media users access their favorite platforms on mobile and apps, so a mobile first design is non-negotiable.
It goes without saying that (for now) advertising and selling on social media is just one part of a wider retail strategy, and that there are many other things you should also be doing to get more sales.
For more expert tips on online retail strategy, as well as all the latest news in the world of eCommerce, sign up to our monthly email newsletter and don't be scared to contact us at any moment – we'd love to hear from you!
Related blog
Learn something new today