Industry 4.0+: The Digital Shift in Manufacturing
Industry 4.0, which will be fueled by disruptive trends including the connectivity, analytics, human-machine interaction, and advancements in robotics, is expected to be the next stage in the digitalization of the manufacturing industry.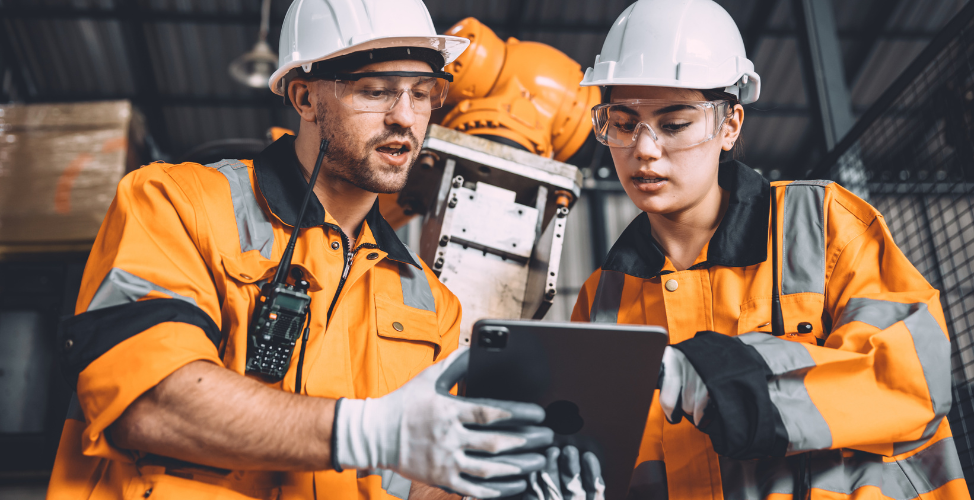 Digital transformation in manufacturing is known as the use of digital technologies to replace antiquated or non-digital manufacturing and near-manufacturing processes and activities in order to improve corporate performance.
The current adoption level
Most manufacturing industry businesses indicated a mature implementation or are well along with digital transformation initiatives in most of their operations, according to a five-level capability maturity model by Fujitsu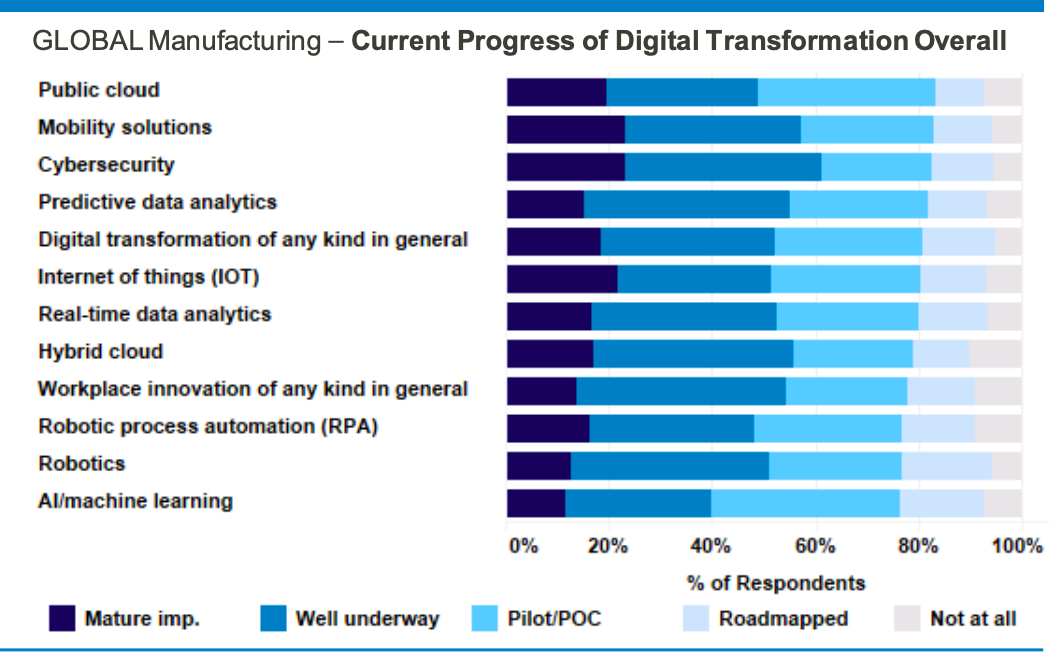 According to MordorIntelligence, due to increased investments in digitization across prospective economies, the Asia-Pacific region is emerging as a new hotspot in the global market for digital transformation.
Deloitte's poll reveals that, in the next two years, manufacturing organizations' top deployment preference (51%) will be smart production, followed by goods and services (25%).
According to reports, the AI market will be worth 16.3 billion US dollars by 2027. This growth will probably lead to 40% of manufacturers using AI to contribute to critical decision-making processes, but this is really just the tip of the iceberg. AI will go much deeper than that and will include greatly improving factory efficiency, training staff, and meeting sustainability goals.
Who are you in this race?
According to McKinsey, manufacturers playing catch-up to the leading companies generally fall into one of three company archetypes:
The cautious starters: These businesses are looking at ways to start their digital transformation journeys. They require assistance to determine the entire value that Industry 4.0 may offer to their company and to create a network-wide strategy and implementation roadmap.
The frustrated experimenters: Through pilot projects, several businesses have begun experimenting, with some degree of success. They nonetheless find themselves implementing technology while not having a clear knowledge of how to generate a profit.
The ready-to-scalers: Although many businesses are implementing solutions and technology, they are still unable to optimize profits or grow quickly across their networks. They need to reassess by concentrating on how to fully utilize Industry 4.0 or how to hasten implementation in response to changes in company and consumer demands.
Not just processes and productivity, but also people
McKinsey emphasizes that digital transformations are revolutionizing all aspects of manufacturing. The proper use of technology may promote empowered decision-making, new possibilities for cross-functional cooperation and upskilling, enhanced talent acquisition and retention, increased workplace safety, and increased employee happiness.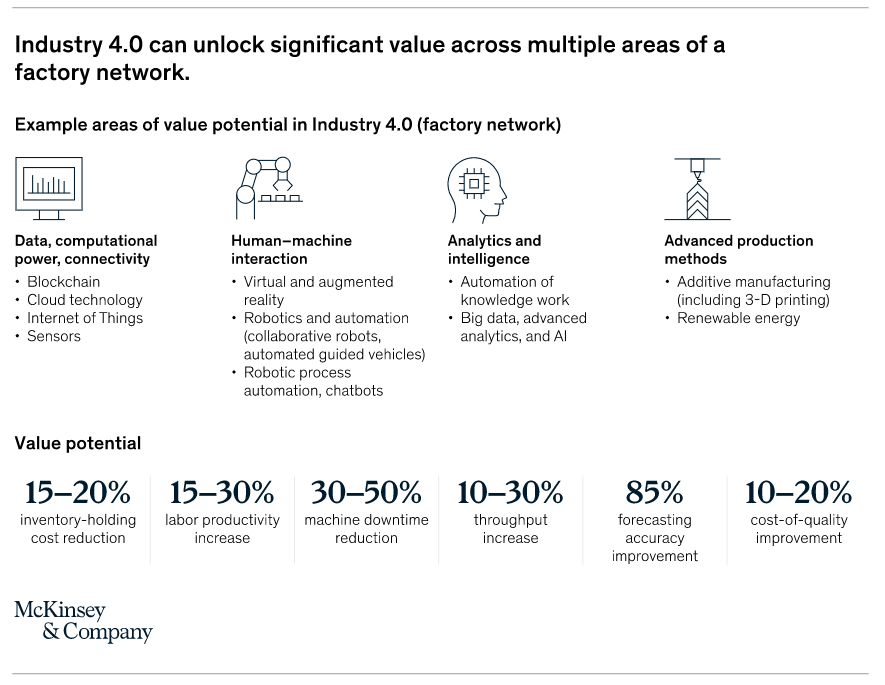 Leading businesses are catching up with the trend
A prominent illustration of how Industrial Internet of Things (IIoT) technology, robots, and employees collaborate on the production floor to manufacture the most cutting-edge vehicles in the world is Tesla's smart factory. In fact, a digital twin is used to do initial testing on every car that leaves a Tesla facility. In the factory, each car's simulation is run using data from thousands of Tesla vehicles that are currently on the road.
Few firms have started deploying AI at various factories; many of these initiatives are dispersed "islands" on the factory floor. But Siemens' Digital Industries Factory Automation tools were successfully integrated with Google's data cloud, AI, and machine learning services. This development allows Siemens to unify its factory data, run cloud-based analytics and AI across it, and deploy algorithms at the network edge.
Discover more about how Cloud technology can liberate your organizations here.
Daikin Vietnam, a member of the world's leading air conditioner manufacturer – Daikin has demonstrated an e-office success story. Before implementing digital transformation, Daikin had to deal with substantial backlogs in the approval of requests and paperwork as well as inadequate communication between the Office, Factory, and Dealer divisions. But the E-office solution has brought a new spirit to Daikin. The working process is made visible by reducing more than 50 manual procedures, using E-Office software across the board, and digitizing departmental activities. Additionally, requests are resolved swiftly, enhancing employee satisfaction and confidence.
Curious about how this Daikin success story was elaborated? Contact us!
Conclusion
The modern factory with digital capabilities looks considerably different from the industry-leading plant 10 years ago. Manufacturers may select from hundreds of potential solutions and tech applications thanks to advancements in data and analytics, AI, and machine learning, as well as the variety of technology providers on the market. Depending on the functions being changed and the possibilities and problems being addressed, these strategies might take quite various shapes even within a single sector or one particular organization.
Related blogs
Learn something new today