The 2023 Radar: Top Trending Technologies for retailers
In this post-pandemic era, the global economy is predicted to be rocky, and the retail industry is expected to undergo significant changes driven by various technological innovations. As the latest technological advances continue to mature, it is crucial for retail leaders to implement the newest solutions; otherwise, they risk feeling the bumps in the road. SmartOSC deeply understands the fast-paced development and has put together a list of top strategic technology trends for retailers to watch out for in 2023.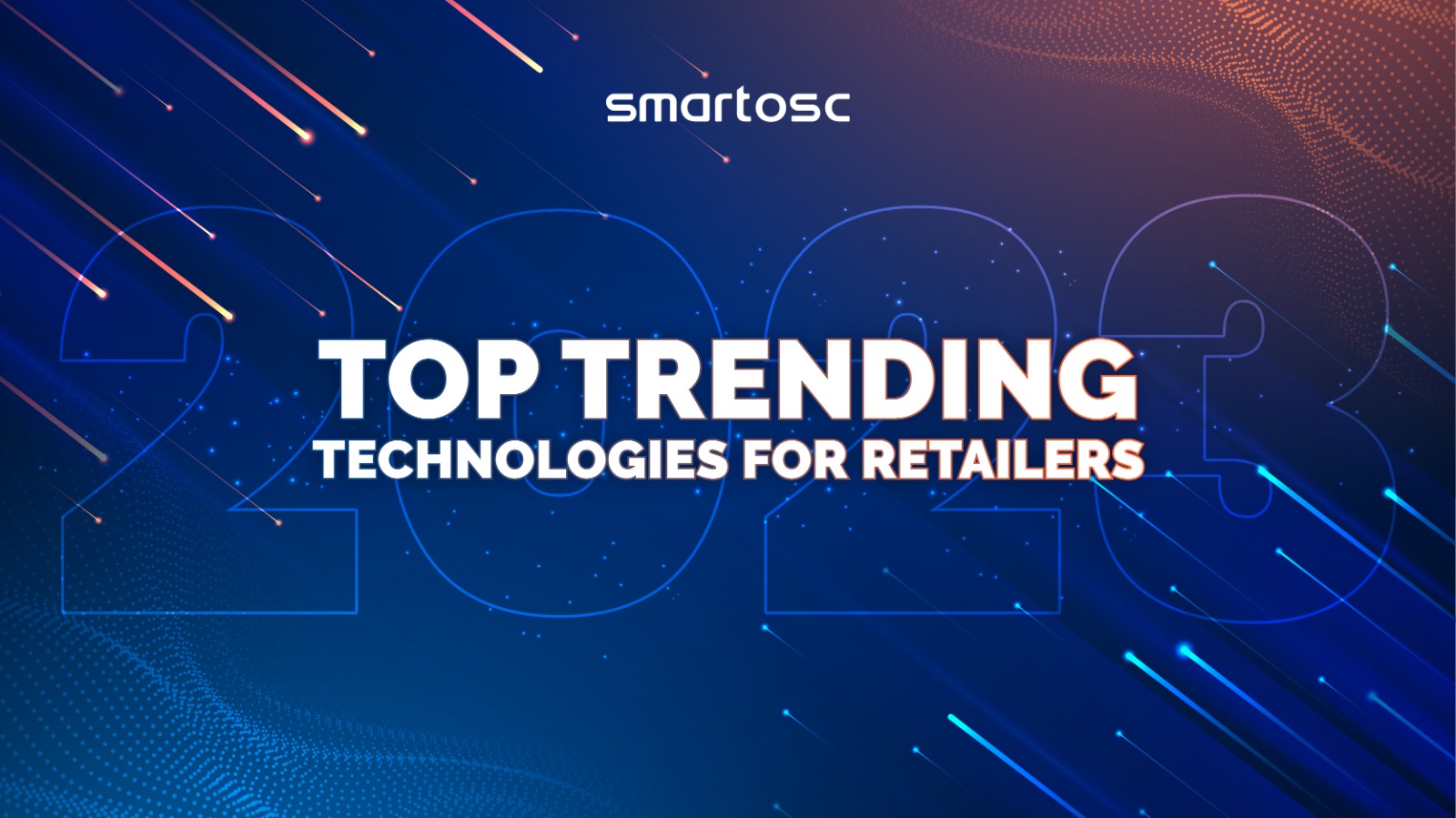 Metaverse
In the latest report from Gartner, Metaverse is predicted to be one of the top strategic technology trends in 2023. Metaverse is a shared virtual space where users can work, play, and even shop on a single, persistent platform, creating extremely immersive, experiential, and digital environments.  
As the Metaverse continues to evolve, businesses can take full advantage of this exciting concept in order to connect and engage with customers,  creating new value exchanges, revenue streams, and markets. Considered as the heart of the next eCommerce revolution, Metaverse presents a golden opportunity for retailers to reach  global audiences, by creating virtual stores and experiences that can be accessed from anywhere in the world. 
According to Gartner, by 2026, 25% of people will spend at least one hour a day in the metaverse. Similarly, IntelligenceNode has predicted that 30% of organizations worldwide will have products and services ready for the metaverse. As the buzz around Metaverse continues to grow, businesses will need to stay attuned and act quickly to customers' continuously changing needs. 
So far, the largest brand to commit the most to this virtual future is Nike, who developed a virtual world called, 'Nikeland', where they connect with customers in playful and unique ways.  Across other industries, Siemens also joined the game by partnering with NVIDIA to create an industrial metaverse for innovative engineering solutions.
Superapps
Due to the high penetration of smartphones and the effect of the pandemic, the rise of superapps is continuing to grow and is expected to be a top trending technology in 2023. Superapps have been developed to be a one-stop-shop for all the customer's needs, impressing users with a set of core features and consistently personalized experiences.
In a world where mobility and convenience are key,  superapps play a crucial role in enhancing customer loyalty and retention by satisfying multiple purposes in one place. By providing different services, superapps can help businesses to collect more valuable consumer data. With all of this in mind, researchers believe that investing in superapps is a wise decision,  bringing indefinite scaling opportunity to businesses. 
By 2027, Gartner expects that more than 50% of the global population will be daily active users of multiple superapps. In the coming years, travel, entertainment, and shopping are the most-cited topics that consumers desire to have integrated into a superapp according to Dentsu. Unsurprisingly, data security has been  highlighted as the biggest worry among those interested in superapps (PYMNTS). With growing success in Asia, superapps have seen widespread adoption in this region, however,  they have not caught on completely in the US and EMEA just yet. 
As a treasure land for superapps, Asia is booming amongst dominant players such as: China's WeChat and Alipay, India's Paytm, Singapore's Grab, Indonesia's GoJek, and South Korea's KaKao, which collectively amount to over 2.4 billion monthly active users (Dentsu). 
Sustainable Technology
As consumers become more environmentally conscious, it is no doubt that sustainable technology has a high position in the top trending technology list for 2023. Gartner defines sustainable technology as a framework of solutions that increases the energy and material efficiency of IT services, enabling enterprise sustainability through technologies and helping customers become more sustainable through apps, software, marketplaces, and more. 
Not a "nice to have" solution anymore, sustainable technology is now a responsibility that can make or break business value. By actively adapting to this trend, businesses create greater resiliency to operational and financial problems, while also strengthening trust and loyalty with their customers. 
Looking ahead, it has been reported that by 2024, 75% of large enterprises will implement ESG data management and reporting software (IDC). In addition to this, by 2025, 50% of CIOs will have performance metrics tied to the sustainability of the IT in their organization (Gartner).
In the retail industry, Korean retailer, Coupang, serves as a good example for eliminating packaging from 75 percent of its deliveries, resulting in higher brand loyalty and reduced logistical expenditure (Forbes). 
Cashless Society
With the rise of eCommerce and the need for convenience following the pandemic, going cashless is considered to be one of the top trends for 2023 and beyond, according to Forbes.  Flexible payment trends will be a standard expectation for consumers who will increasingly seek out options such as, buy-online-pickup-in-store (BOPIS) and buy-online-return-in-store (BORIS) and buy-online-pickup-at-curbside (BOPAC).
By quickly adopting and leveraging new technologies for this cashless trend, businesses will increase their customer base by satisfying the high demand for more streamlined and efficient payment methods. Businesses that adapt to these payment methods will help to reduce friction and delays during the customer buying journey, bringing about more  efficient operations for businesses. 
According to the latest payment report from PWC, global cashless payment volumes are set to increase by more than 80% between 2020 to 2025. Cashless transactions will grow fastest in Asia-Pacific, followed by Africa and Europe. 
Regarding the rise of a cashless society, the digital wallet is one of the growing phenomena across the world, with many key players such as Google Pay, Apple Pay, WeChat Pay, AliPay, and even numerous start-up players. 
Overall, to be well-positioned and to succeed in an increasingly competitive market, retailers are required to always stay up-to-date, not only keeping up with one of these trends but by allowing for the flexible combining of all trends to be implemented for specific business situations, which will allow for businesses to perfectly leverage their strengths and overcome weaknesses.