SmartOSC Awarded As Magnolia Rising Partner Of The Year 
INDONESIA, October 12, 2023 – Magnolia recently recognized SmartOSC as a Rising Partner at APAC Partner Summit 2023, their biggest partner event in the region.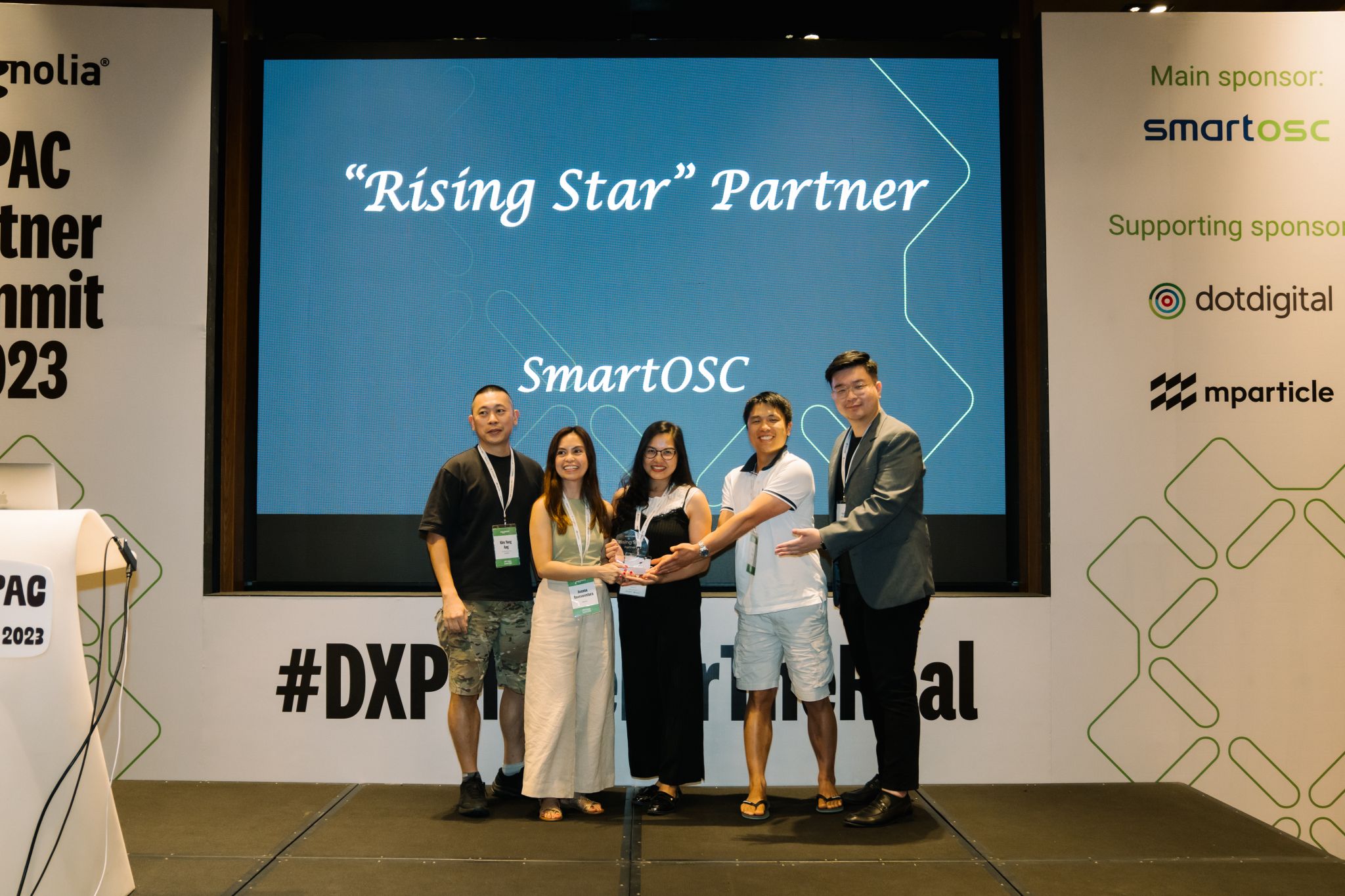 This recognition highlights SmartOSC's deep expertise in Magnolia's leading composable DXP and the agency's achievements in helping global enterprises deliver hyper-personalized customer experience.
"SmartOSC's unwavering commitment to leveraging technology to accelerate digital experiences for its clients is in perfect sync with what we do here in Magnolia. Their relentless pursuit of excellence, thirst for innovation, and core values have been instrumental in our close partnership. We deeply cherish their collaborative approach and are truly grateful for their invaluable support." said Don Lee, Managing Director, Magnolia APAC.
Over the last 18 years, SmartOSC has partnered with world-leading retailers such as The Mall, Ricoh, and ASUS through its genuine commitment to leveraging technologies for superior customer experiences. This dedication also resonates with Magnolia's mission when addressing customers, this united voice aids in forging a long-established and close partnership between the two businesses.
"In any country, SmartOSC and Magnolia always strive to work as a team to maximize joint effort and results. Our collaborative approach fosters a strong sense of unity and ensures that we achieve our objectives together. We genuinely appreciate Magnolia's seamless support system, which consistently provides invaluable assistance in all APAC regions." said Duong Bui, Regional Director, SmartOSC Australia in her speech at the summit.
This collaboration aims to empower enterprises in the whole APAC, especially Australia with future-ready architecture and technology's composability.
Going forward, SmartOSC and Magnolia will maintain and strengthen their partnership, further committing to educating partners and markets through co-hosted events and intensive training programs.
About Magnolia
Magnolia is the world's leading composable Digital Experience Platform, with over 450 enterprise customers, thousands of Community Edition deployments, and more than 200 certified Magnolia Partners around the world.
Magnolia APAC Partner Summit 2023 is a premium forum bringing together respected partners, acknowledging partner success, innovative work, and dedication to customer success using the Magnolia platform in the APAC region.
About SmartOSC
With 18 years in operation, SmartOSC is an industry-leading full-service eCommerce agency of 1000+ experts across countries including Vietnam, Australia, Singapore, Japan, Thailand, Indonesia, Korea, the US, and the UK. With deep experience across most enterprise platforms and technology stacks, our customers choose us because we can solve complex implementations at scale, as evidenced by 1,000+ successfully launched projects.