SmartOSC, Backbase And OCB Forge Strategic Partnership To Leapfrog Omnichannel Banking Modernization & Personalization
Ho Chi Minh, July 20, 2023 — Orient Commercial Joint Stock Bank (OCB) has signed a cooperation agreement with SmartOSC and Backbase to power its omnichannel banking modernization.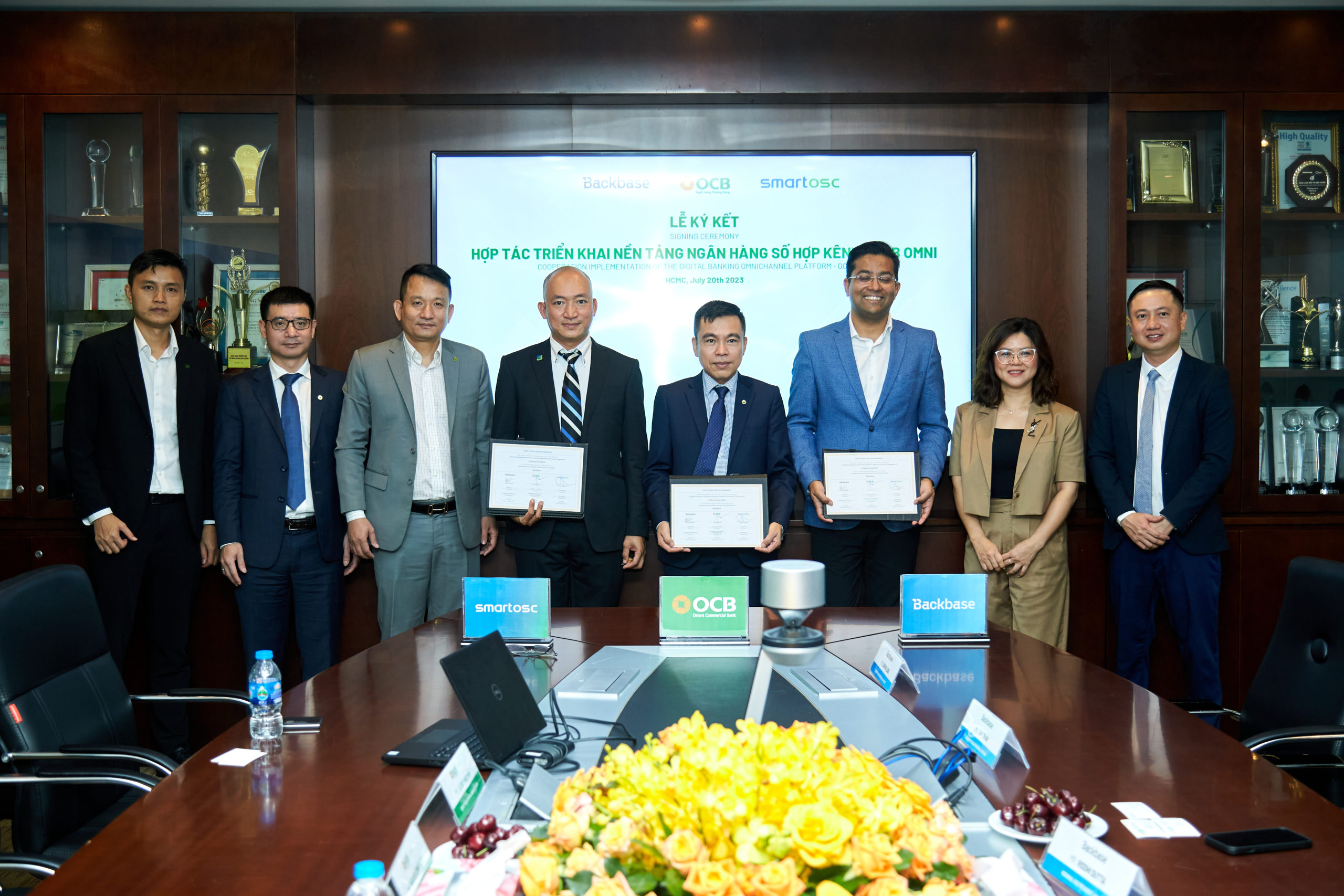 SmartOSC, a leading system integrator in digital banking solutions on a global scale, is entrusted to orchestrate the implementation of the Backbase Engagement Banking Platform for OCB. SmartOSC's expertise will integrate the Engagement Banking Platform & Digital Banking Omnichannel Platform into OCB's current systems of records, while addressing their initial localization needs. Additionally, SmartOSC will develop OCB's Mobile Banking, Internet Banking, and Employee App.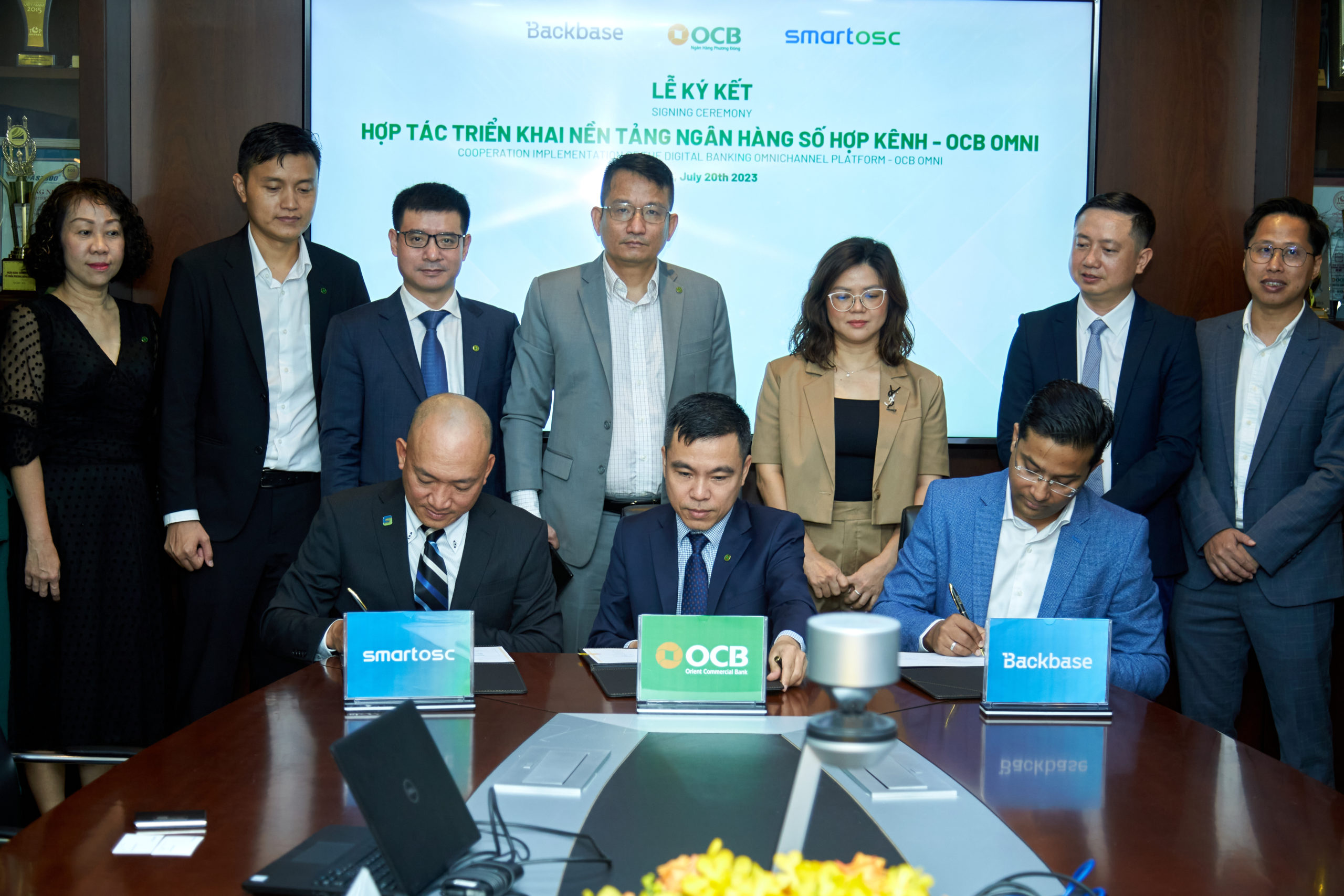 The primary objective of OCB is to create a personalized digital banking system customers across all channels. By investing in Backbase's Engagement Banking Platform, the bank expects to double its retail banking monthly active users in the first year after the launch and reach 10 million monthly active users within five years. 
"Our strategy is to create a unified customer lifecycle, starting with the retail banking line of business and swiftly expand to the business line, which will keep OCB ahead of other competitors in Vietnam," Mr. Nguyen Dinh Tung, CEO of OCB, said. "We are investing in Backbase's Engagement Banking Platform to accelerate customer acquisition growth, with the goal of reaching 2 million consumers in the first year after go-live. The unique adopt and build approach offered by the Engagement Banking Platform aligns with our ambition to launch our services within just 6 months."
With comprehensive and tailored solutions, SmartOSC is able to bring OCB's digital banking system a versatile, friendly and secure ecosystem. This will support the bank in multi-channel service activities, improve the system's performance and stability, and provide a flexible platform that enables the bank to actively work on new products and services. As a result, OCB will be able to deliver seamless customer experiences and increase customer acquisition.
"We are excited to collaborate with OCB and Backbase at this pivotal time in banking. Having the ability to quickly adapt to evolving customer needs is essential in today's digital landscape. This collaboration stands as a testament to its significance." Le Mai Anh, Vice Chairman of SmartOSC, said. "We are honored to work together to modernize omnichannel banking using the Engagement Banking Platform, showcasing the best that innovation and customer-centricity offer. We are confident in delivering this project on time and supporting OCB's mission of prioritizing customer needs and delivering high-quality products and services without disruption."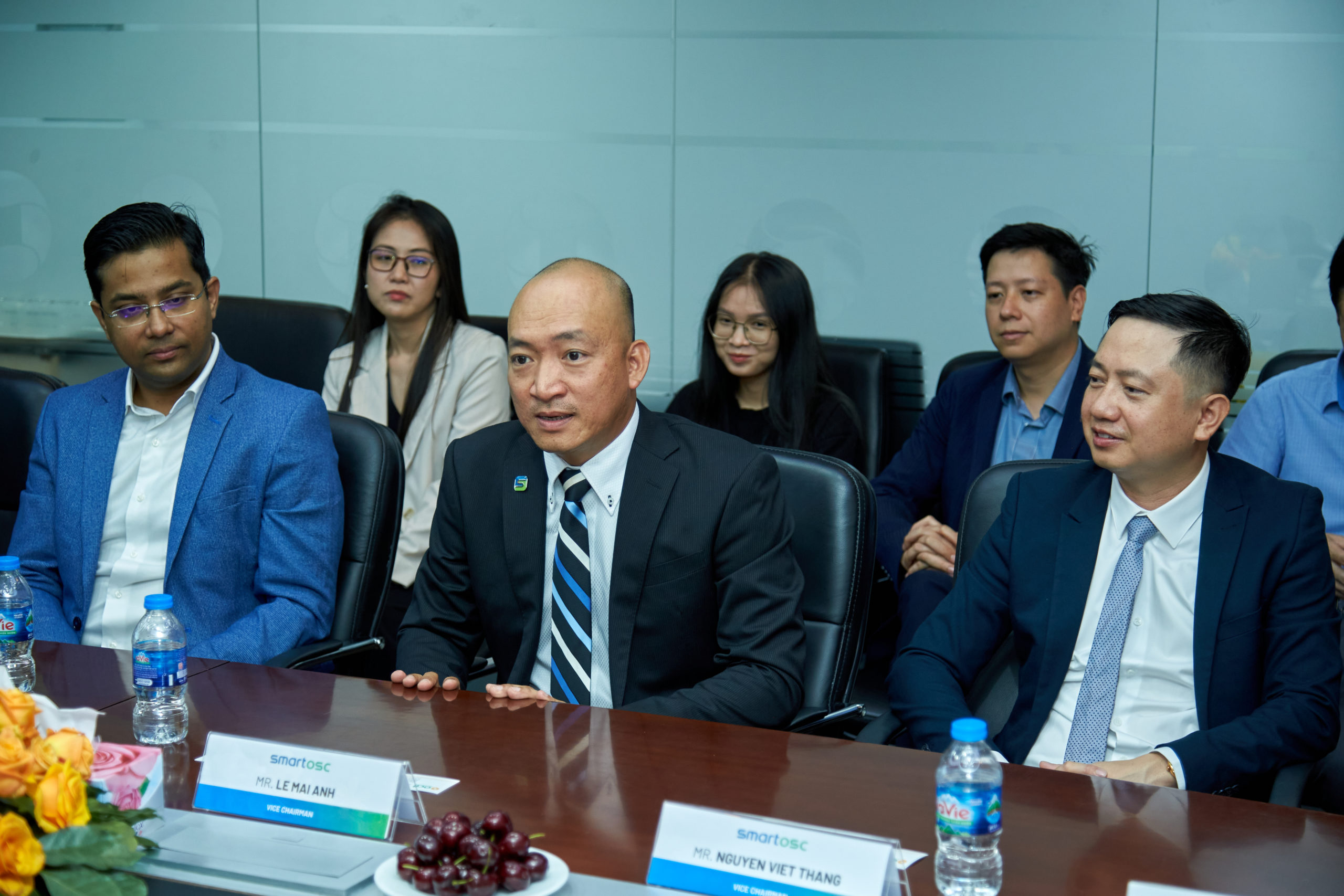 "The beauty in adopting and building is that banks do not need to worry about the underlying business rules, orchestration of banking services, hygiene security and compliance requirements, and the essential microservices and journeys that are already proven to work across the lines of business and channels they want to re-architect. On day one, banks could start building on top of the platform to customize journeys and experiences for specific consumer segments, products, and channels, which is the reason that go-live for such an extensive omnichannel platform can be within 6 months."  Riddhi Dutta, Regional Vice President, Asia, Backbase said.
SmartOSC was recently awarded a Gold Trophy at the Globee Information Technology Award 2023 for its Fintech services and solutions.  Earlier this year, the Backbase Engagement Banking Platform was recognized as a leader by industry research analysts at Celent and Omdia.
About Backbase 
Backbase is on a mission to re-architect banking around the customer.
Backbase created the Backbase Engagement Banking Platform – a unified platform with the customer at the center, empowering banks to accelerate their digital transformation. From customer onboarding, to servicing, loyalty, and loan origination, our single platform — open and frictionless, with ready-to-go apps — improves every aspect of the customer experience. Built from the ground up with the customer at the heart, our Engagement Banking Platform easily plugs into existing core banking systems and comes pre-integrated with the latest fintechs so financial institutions can innovate at scale.
Industry analysts Gartner, Omdia, and IDC continuously recognize Backbase's category leadership position. Over 120 financials around the world have embraced the Backbase Engagement Banking Platform. In APAC, the customers we serve include ABBANK, BDO Unibank, Bank of the Philippine Islands, EastWest Bank, HDFC, IDFC First, JudoBank, Techcombank, TPBank, and UBank.
Backbase is a privately funded fintech company, founded in 2003 in Amsterdam (Global HQ), with regional offices in Singapore (APAC HQ), Atlanta (Americas HQ), and operations in Australia, India, Indonesia, Malaysia, Philippines, Thailand, Vietnam, Latin America, and the UK.
About Orient Commercial Joint Stock Bank
Orient Commercial Joint Stock Bank (OCB) was established on 10 June 1996. After more than 27 years of operation and development, OCB currently has more than 200 business units spread across all regions and key economic centers across the country.
OCB was recognized by the State Bank as one of the first three banks to complete risk management items according to the Basel II international standards by the end of 2018. Moody's Investors Service, one of the three most prestigious credit rating agencies in the world, increased Counterparty Risk Assessment (CRA) and Counterparty Risk Rating (CRR) to Ba3 in July 2019. This is the highest-ranking level in Vietnam today. Rated as the leading bank in Vietnam in terms of operational efficiency with sustainable growth potential, OCB has created confidence for Aozora Bank – one of the most efficient banks in Japan, to invest 15% share capital of OCB and become a long-term strategic partner.
OCB has gradually risen to the top of the group of private banks in Vietnam according to three criteria: growth rate, safety and efficiency. Not only operational efficiency and profit, OCB always actively controls costs, synchronously implements cost-optimizing solutions to improve business efficiency, this is the Bank's direction throughout. OCB's equity has now increased by nearly 8 times, profit by more than 16 times and total assets by 12 times. Thereby, OCB became a joint stock commercial bank holding the No. 1 position in terms of profit growth rate and No. 3 in terms of return on capital efficiency.
About SmartOSC
With 18 years in operation, SmartOSC is an industry-leading digital transformation agency of  1000+ experts across countries including Vietnam, Australia, Singapore, Japan, Thailand, Indonesia, Korea, the US and the UK. Deep experience across most enterprise platforms and technology stacks has made SmartOSC a trusted partner for leading brands and financial institutions worldwide.
SmartOSC Fintech provides top-tier solutions and caters to tailor-made requirements for banks and financial institutions worldwide by leveraging the latest technologies. This capability means banks can reduce operating costs, save implementation time and ensure security with SmartOSC Fintech suite. 
Being recognized as a leading customer-centric eCommerce partner at The Global Economics Awards 2023, SmartOSC is able to represent its commitment to helping clients to succeed in an ever-changing world.